153rd Lodi Agricultural Fair in Lodi Wisconsin
Welcome to the Lodi Agricultural Fair located in the scenic valley of Lodi, Wisconsin. For four days each summer, our community of 3,000+ opens the fair gates to exhibitors, volunteers, and visitors of all ages for some old-fashion family fun. This open fair is free of gate fees, exhibitor fees and stalling fees, making it easy for you to be one of over 450 exhibitors or over 10,000 visitors each year. Visit with our 4-H, FFA and other youth exhibitors as they showcase projects from the beef, swine, sheep, dairy, rabbits and poultry departments. Stroll through the Junior, School and Open Class buildings to view over 2000 projects from art to woodworking projects and there is plenty to see in between. Make sure you "taste" your way around the fairgrounds as we have wonderful food selections. For the ride seekers, we offer carnival rides for the whole family and watch for pre-fair discounts. In the evening, enjoy an Old Fashion Horse Pull, Demo Derbies, and Truck n Tractor Pulls in our grandstand. Remember there is live music for all ages. Be sure to follow us on Facebook and check our Event Schedule for updates on this site often, you won't want to miss a thing at this fair.
Remembering the past, Building for the future ....
Fair Location
700 Fair St, Lodi WI 53555
(608) 592-4499
The Lodi Agricultural Fair has something for everyone - young and old alike.
The fair starts with an Old Fashioned Horse Pull and finishes with our popular Truck and Tractor Pull.
Our Demo Derby is Friday and Saturday night. The competitors drive stock midsize, compact, 1/2 stock trucks, pro trucks and pro open full size vehicles.
The softball tournament that spread across two days is for Lodi High alumni only.
Online entries will open
May 22nd, 2018 and close on June 22nd, 2018.
NO LATE ENTRIES WILL BE ACCEPTED!
Please check out the latest updates to our Fair Schedule!
THERE WILL BE EMS BINGO on Thursday Night ONLY during this year's fair in the Free Stage Tent….Please share with Family and Friends!
Susan Frankland will be performing on Friday Night in place of the Bingo in the Free Stage Tent.
New for the Kiddies! Story Hour and Music Lessons held in the West Point Old School House!
First Responders and Veterans Ice Cream Social on Sunday at Noon in the Free Stage Tent. All welcome! Please thank them for their service!
The 2018 Dress/Style ReVue and Demonstrations/Speeches will be held Tuesday eve, July 10th at 6 pm…6: 30 pm Sharp, we will start the judging.
This is a pre-fair event but family and friends are welcome to attend.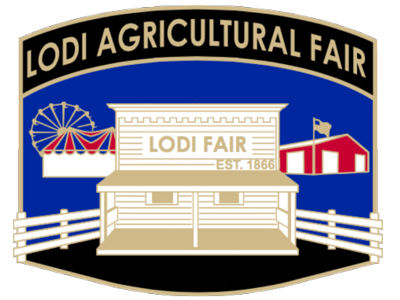 The 2018 Fair will be
July 12-15, 2018