Grandstand
Rule Updates
Please Read!
Due to our new Emergency Evacuation Planning, we can no longer allow baby strollers inside the Grandstand.
We now offer a stroller corral conveniently located near the Grandstand Entrance for the strollers to be parked in during our events. It is free!
Due to beer sales in the Grandstand, if you have a PIT-PASS and want to sit in the Grandstand, you must surrender your PIT-PASS and will be given a hand stamp free of charge and allowed in the Grandstand. You will not be able to go back into the Pits once you have surrendered your PIT-PASS.
Children's Special ½ price tickets are only available for children under the 42" ticket counter height.
There is a designated "Family Seating" area for those with smaller children in the Grandstand.
Please, No Carry-Ins.
Lodi Agricultural Fair Truck & Tractor Pull
Get Ready, Get Set, Get Pulling!
Sunday, July 14, 2019 - 5 pm
Lodi Fairgrounds Grandstand
Truck & Tractor Pull Rules and Entry Form (pdf file)
Please come join us at the 154th Lodi Agricultural Fair for our annual Truck & Tractor Pull. We will be having trucks, farm tractors and the South Central Wisconsin Tractor Pullers.
Class List:
Non-Sanctioned Classes:
Changes have been made to rules from last year. 100% payout. Registration starts at 3:00 pm. $ 20 registration includes 2 pit passes, additional pit passes are $ 20.
6,500lb Blended Class Non-Turbo Farm Tractors and Trucks (8 mph)
9,500lb Turbo Farm (10mph Limit)
11,000lb Turbo Farm (12mph Limit)
13,000lb Turbo Farm (12mph Limit)
Stock Diesel Trucks
Modified Diesel Trucks
South Central Wisconsin Tractor Pullers Classes:
5,000lb Naturally Aspirated Open
5,500lb Naturally Aspirated Limited (8mph Pace)
6,250lb Light Limited Super Stock
9,500lb Pro Farm
11,000lb Altered Farm
RULES FOR OPEN (non-SANCTIONED) CLASSES
GENERAL
All contestants enter at their own risk and will be required to sign a waiver. Anyone under 16 years old must bring tractor safety certificate and have consent from parent/guardian
Track is 300' and will be run with a floating finish. Going outside of boundary lines will result in DQ.
No Jerking of the sled allowed.
Weights, if used must be secured.
Driver must remain seated for entire pull. No riders in pits or on track.
All ballast must be secured to tractor, any ballast lost during pull results in a DQ.
Class Jumping is not allowed.
Puller must furnish their own twisted clevis or pullers eye (minimum 3" hole, no straight clevis)
No consumption of alcohol by drivers prior to pulling.
Tech official's decision is FINAL!!!
Absolutely no "Hot Rodding", violators will be DQ'd at a minimum.
TRACTORS
NEW blended 6,500 lb. class, open to all types of pulling vehicles, tractors or trucks.
No cut tires allowed.
Maximum drawbar height of 20". Pinhole a minimum of 18" from centerline of axle. Anyone pulling with hitch mounted to 3pt will be DQ'd if hitch moves during pull. Drawbar must be easily accessible.
Turbo classes are for single stock turbos only.
All farm tractors must have factory fenders seats and tin work.
Stock configuration of tractor required.
Stock core block and fuel pump for farm classes. No "P" or "A" pumps unless equipped from factory.
RPM limit for farm and altered classes is 3,000RPM.
No water injection allowed in any non-sanctioned classes.​
DIESEL TRUCKS
Weight will be 8000lbs, additional ballast allowed.​​
Must have weights secured, prefer no weights in bed.
Classes will be run as open classes with street/stock or modified.
Truck MUST BE SAFE. Unsafe trucks will be DQ'd or not allowed to pull.
DOT tires required.
Grandstand Prices:
Thursday Old-Fashion Horse Pull…$7/adults and Children under 42" ticket counter height are Free.
Friday Demo Derby….$12/adults and Children's Special ½ price tickets for children under the 42" ticket counter height only.
Saturday Demo Derby……$12/adults and Children's Special ½ price tickets for children under the 42" ticket counter height only.
Sunday Truck/Tractor Pull…..$12/adults and Children's Special ½ price tickets for children under the 42" ticket counter height only.
Parking:
Designated parking areas are provided on the Fairgrounds and it is $3.00/vehicle/day. From Fair Street, enter Gate 2 and parking is located behind the Grandstands. Handicap Parking is available. Please refer to the Fairgrounds Map under the INFO tab on this website for more info.

Truck and trailers will enter at the backside of the fairgrounds entrance off Hill Street for Gate 3 and 4.

Street parking is free, but watch for City of Lodi "NO PARKING" signs posted on Fair Street.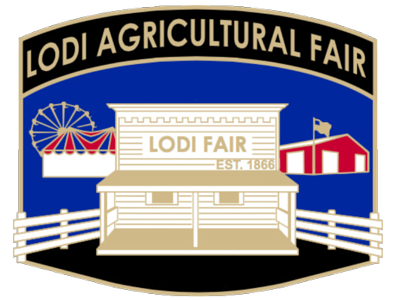 The 2020 Fair is
Canceled. See our activities below.